NEUBrew
NOAA-EPA Brewer Spectrophotometer UV and Ozone Network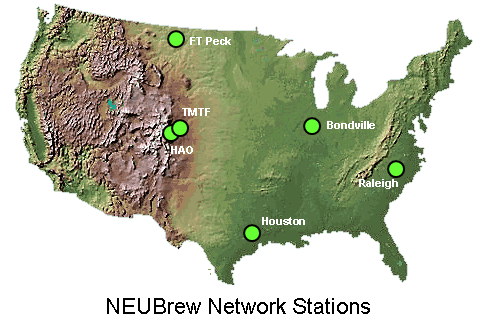 NEUBREW NETWORK

REFURBISHMENT AND CALIBRATION


The NEUBrew network instruments are being retrieved form the field for refurbishment, filter change, and Ozone Calibration. The Mark IV Brewers utilize a UG-11/NiSO4 filter combination, which is hygroscopic and sensitive to changes in humidity, and is problematic in the stability of the Brewer Spectroradiometers. Recently, a new type of compatible filter has become available that should have better long-term stability than the UG-11/NiSO4 filter.

During June and July of 2014 Ft Peck, MT; Bondville, IL; Raleigh, NC; and Houston Brewers will be taken off line and transported back to Boulder for refurbishment and ozone calibration by International Ozone Services (IOS). After calibration, all the Brewers will operate in Boulder, CO for some number of weeks to collect ozone measurements for comparison. The Brewers will then be redeployed to their respective field stations later this year.
2014-07-17
Brewer 144 located at the Bondville, IL tracker has been repaired and is collecting data. However, the data from this instrument will not be made available between Oct 23, 2011 to present due to data quality issues caused by an undetermined loss of instrument sensitivity. 2013-12-10
Brewer 154 located at the Houston, TX has been repaired and is collecting data. 2013-11-29
Brewer 140 located at the Raleigh, NC station has been repaired and now collecting UV and Ozone data. 2010-10-14
---
The NOAA/EPA Brewer Spectrophotometer Network consists of six stations located in the western, central and eastern United States. Brewer instruments provide daily Ultra-Violet (UV) Radiation and Total-Column Ozone measurements. Many Brewers are co-located at NOAA SURFRAD stations equipped with Total Surface Radiation Budget instrumentation, and Total Sky Imagers.

Brewer Deployments:

| | |
| --- | --- |
| TMTF, CO | July 1, 2006 |
| Houston, TX | July 24, 2006 |
| MRS, CO | Oct 25, 2006 |
| Bondville, IL | Sep 25, 2006 |
| Raleigh, NC | Oct 13, 2006 |
| Ft. Peck, MT | Nov 07, 2006 |
Session ID: CC5F1D6C81F07D2229CE26DBAE30720A